In rural farming communities, women are often in charge of ensuring their families' supply of food, water, and energy sources such as firewood. In many households, women also do up to 90 % of the agricultural labor to produce crops for food and income. As a result, women oftentimes carry a higher workload compared to male family members – and this makes them more vulnerable to climate-related issues such as extreme weather events, high temperatures, droughts or floods. These impacts compromise crop production, food security, and water availability, and further increase women smallholders' general workload.
Nevertheless, women smallholders are demonstrating remarkable resilience and taking proactive steps to combat climate change. By using sustainable agricultural practices, adopting sustainable energy solutions and time-saving technologies women can reduce their vulnerability to climate change while also combating it. Advocating for mitigation efforts and gender-responsive policies are other ways that women smallholders are leading the fight against climate change. Below are eight women from different regions where the initiative for coffee&climate (c&c) operates that are at the forefront of the fight against climate change.
María implements diversification which reduces her coffee's vulnerability to high temperatures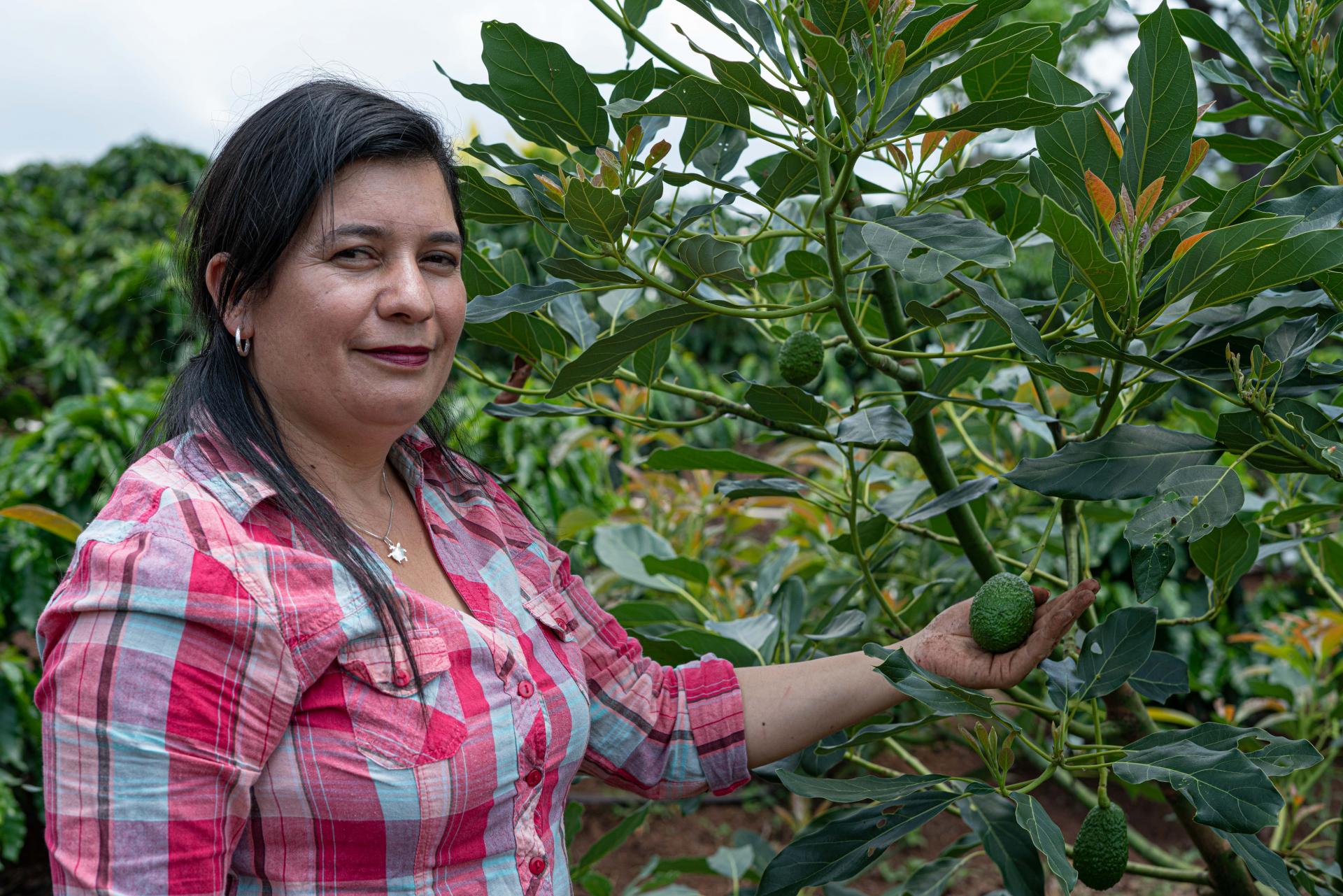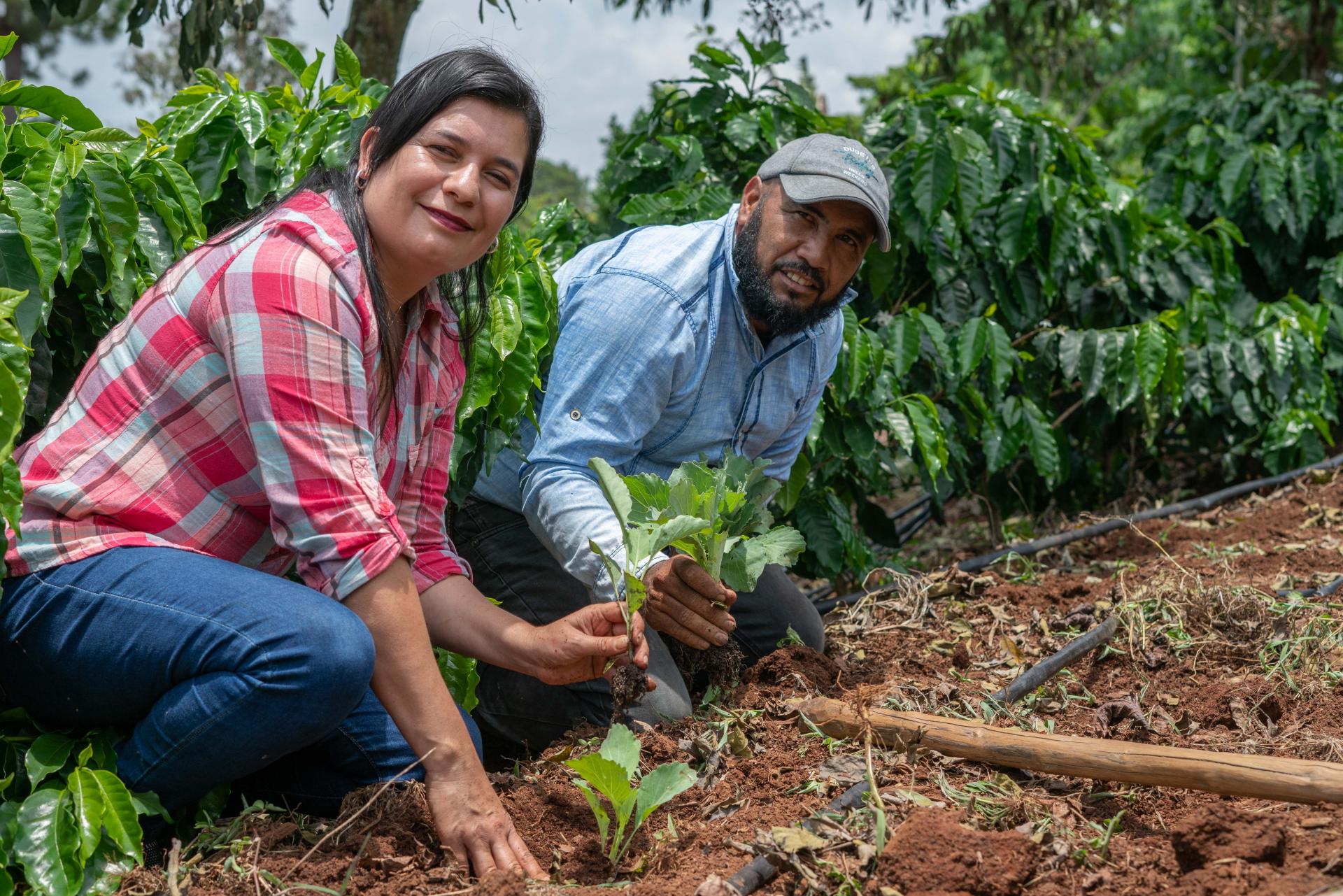 María Alicia Peña, a smallholder farmer who participates in the c&c project in Honduras, is implementing diversification which involves planting different crops in a field. She hosts a demonstration plot that has a 5X1 diversification system of coffee and avocado. She has also incorporated plantain bananas and wood trees which together with the avocado trees, provide permanent shade for her coffee. This reduces the risk of extreme temperatures affecting her coffee yields. Other crops that she has on her farm include a variety of vegetables, lemons, golden cherry and mangos. This diversification also enables María to secure a more stable income through the export of avocados and the sale of other vegetables and fruits to her community.
Leah implements agroforestry which reduces carbon dioxide in the air and protects her coffee from extreme temperatures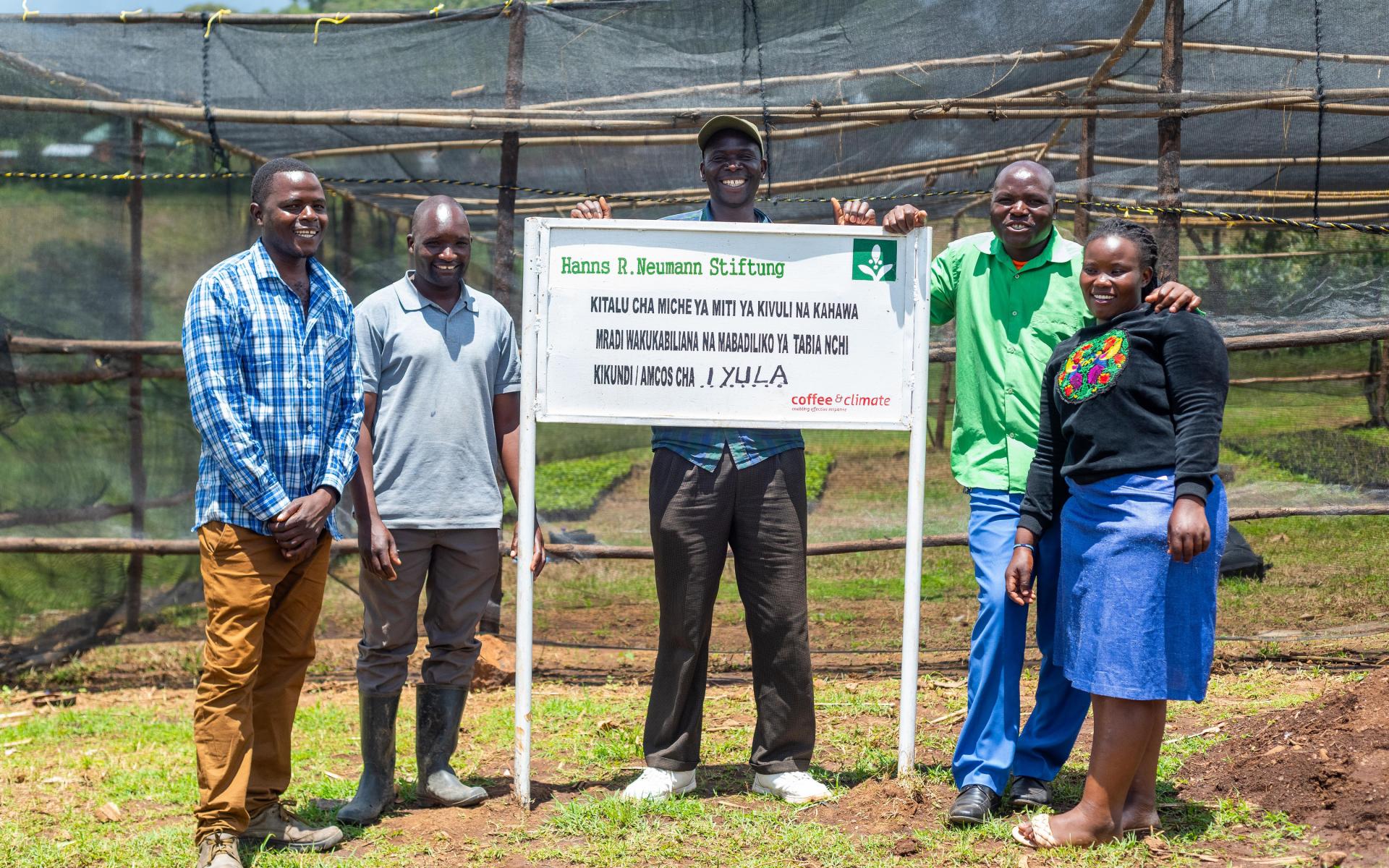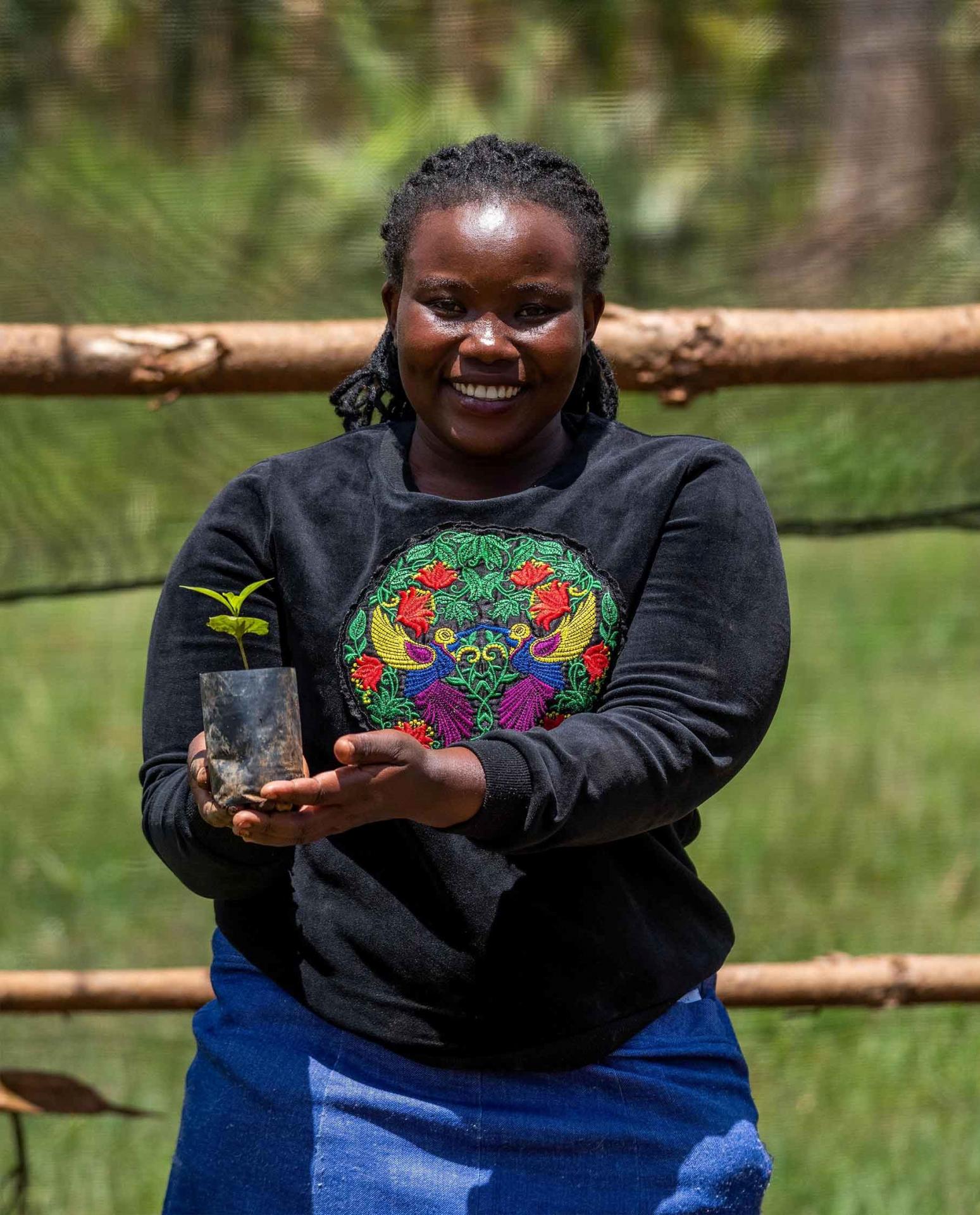 Agroforestry is another climate-smart practice that involves planting trees alongside crops to create a more sustainable farming system. Leah Mlawa who is a smallholder farmer in Tanzania has integrated shade trees into her coffee farm. In this way, Leah is protecting her coffee from extreme temperatures. The shade trees also absorb carbon dioxide through photosynthesis, reducing the amount of carbon dioxide in the air and as a result, mitigating climate change. Leah is also the administrator of the Iyula AMCOS which is a coffee farmer organization that was supported by c&c to establish a coffee nursery. Leah is the main attendant of the coffee nursery and plays an advocacy role in encouraging other farmers to plant improved varieties of coffee alongside shade trees. In this way, Leah is influencing her community to take up more environmentally friendly farm practices.
Sarah uses biofertilizers to strengthen her coffee's resilience to high temperatures and improve soil moisture retention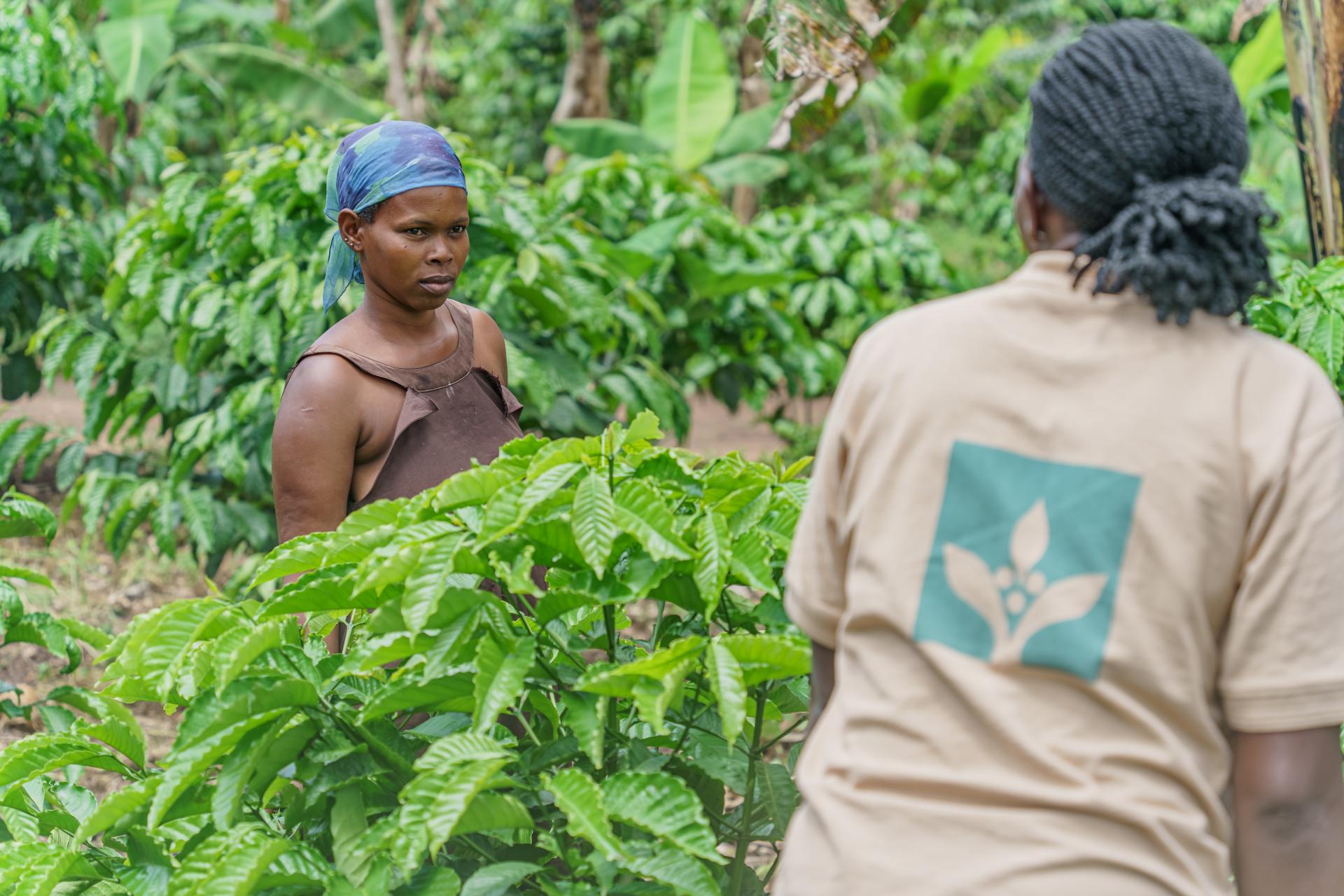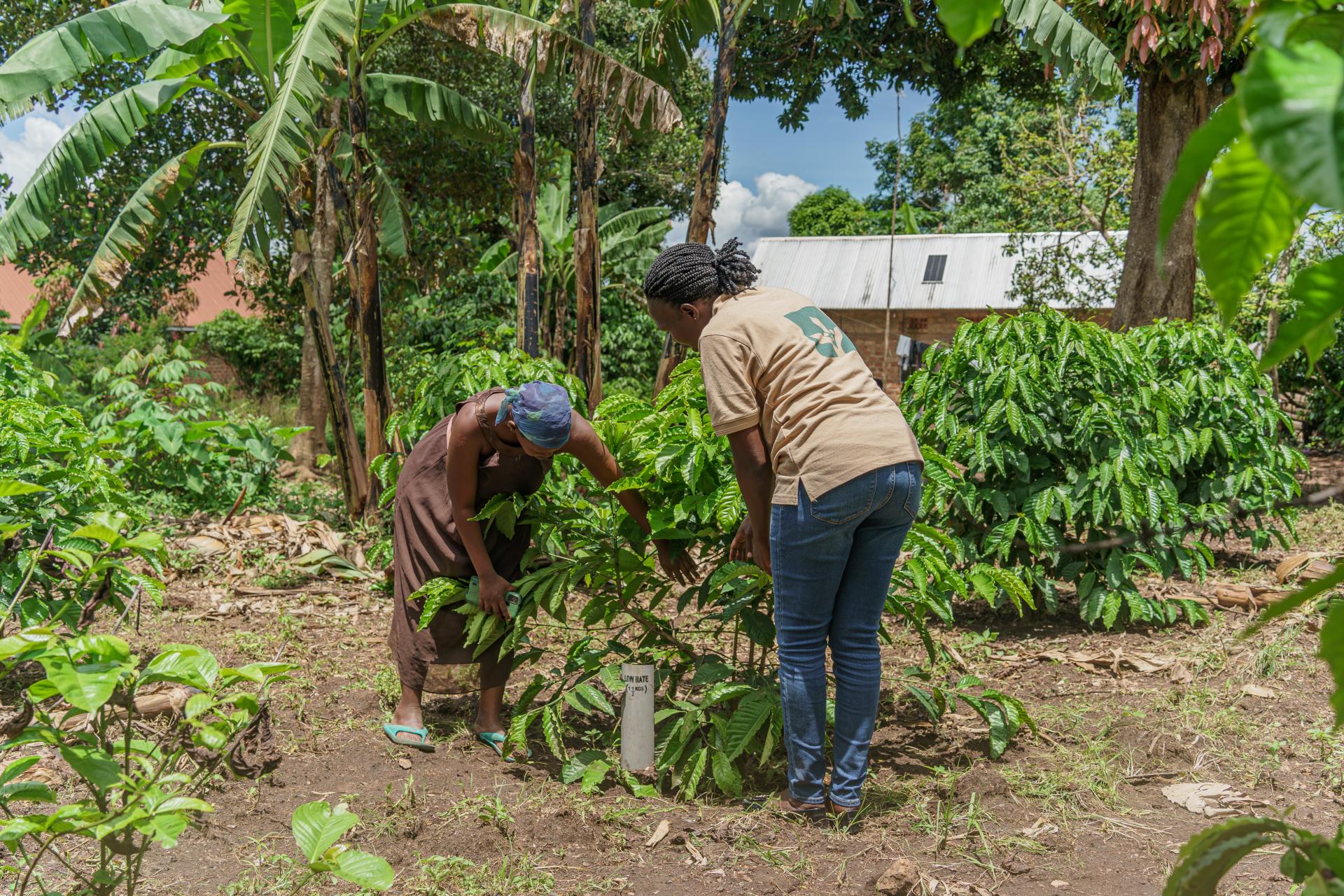 Applying organic fertilizers on crops can also reduce women's vulnerability to climate change as women don't have to rely on chemical fertilizers, which can be expensive and harmful to their health and the environment. Sarah Nabukeera and her husband Christopher participate in the c&c project in Uganda. They were selected and trained in biofertilizer trial plot set-up and management. The aim of the trial is to evaluate the impact of biofertilizers on coffee plants' health, growth, productivity, soil temperature, moisture retention, and cup quality. Through their participation in the biofertilizer trials, Sarah and Christopher can strengthen their coffee's resilience to climate change in a sustainable way.
Meliha uses biogas that reduces her contribution to deforestation and greenhouse gas emissions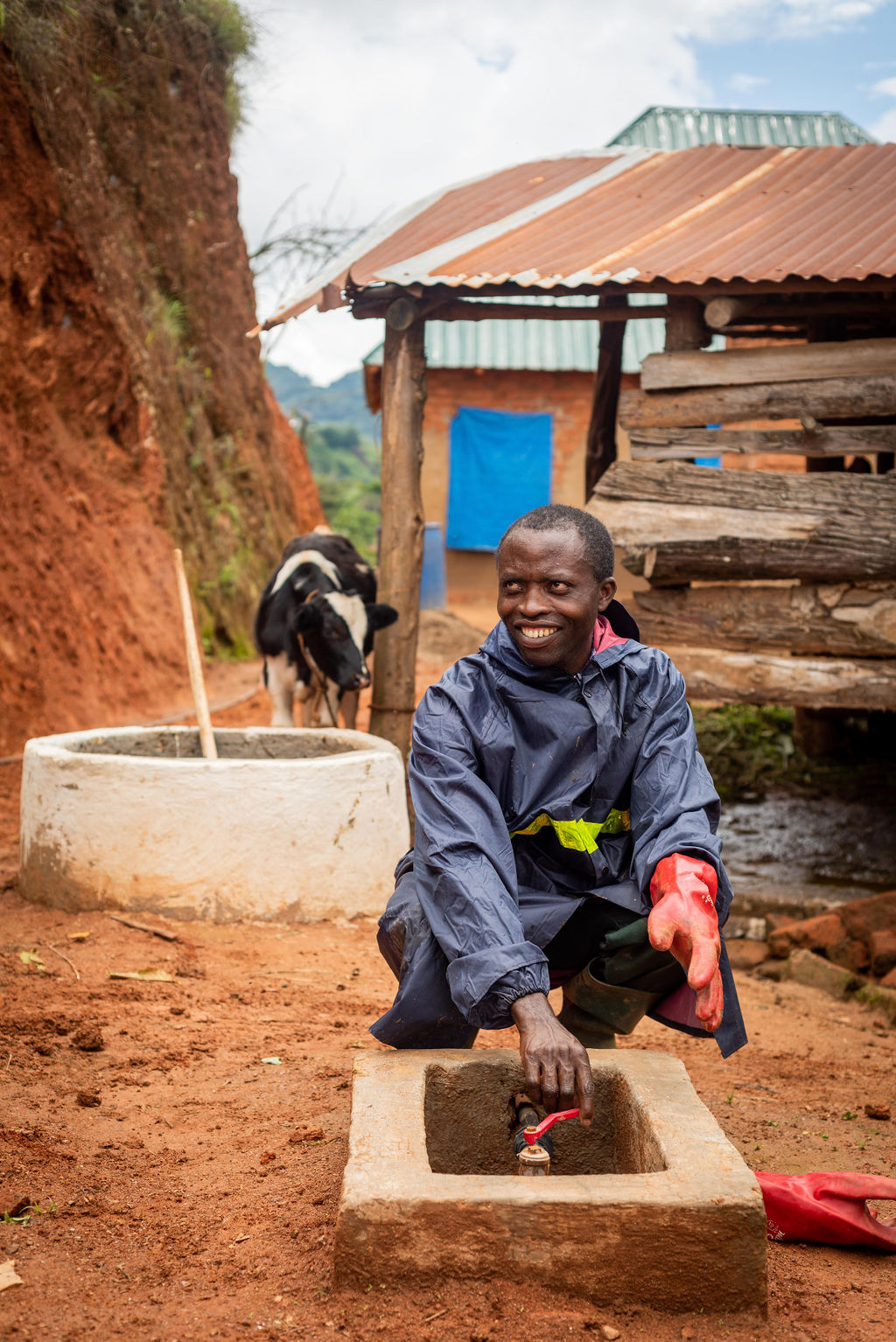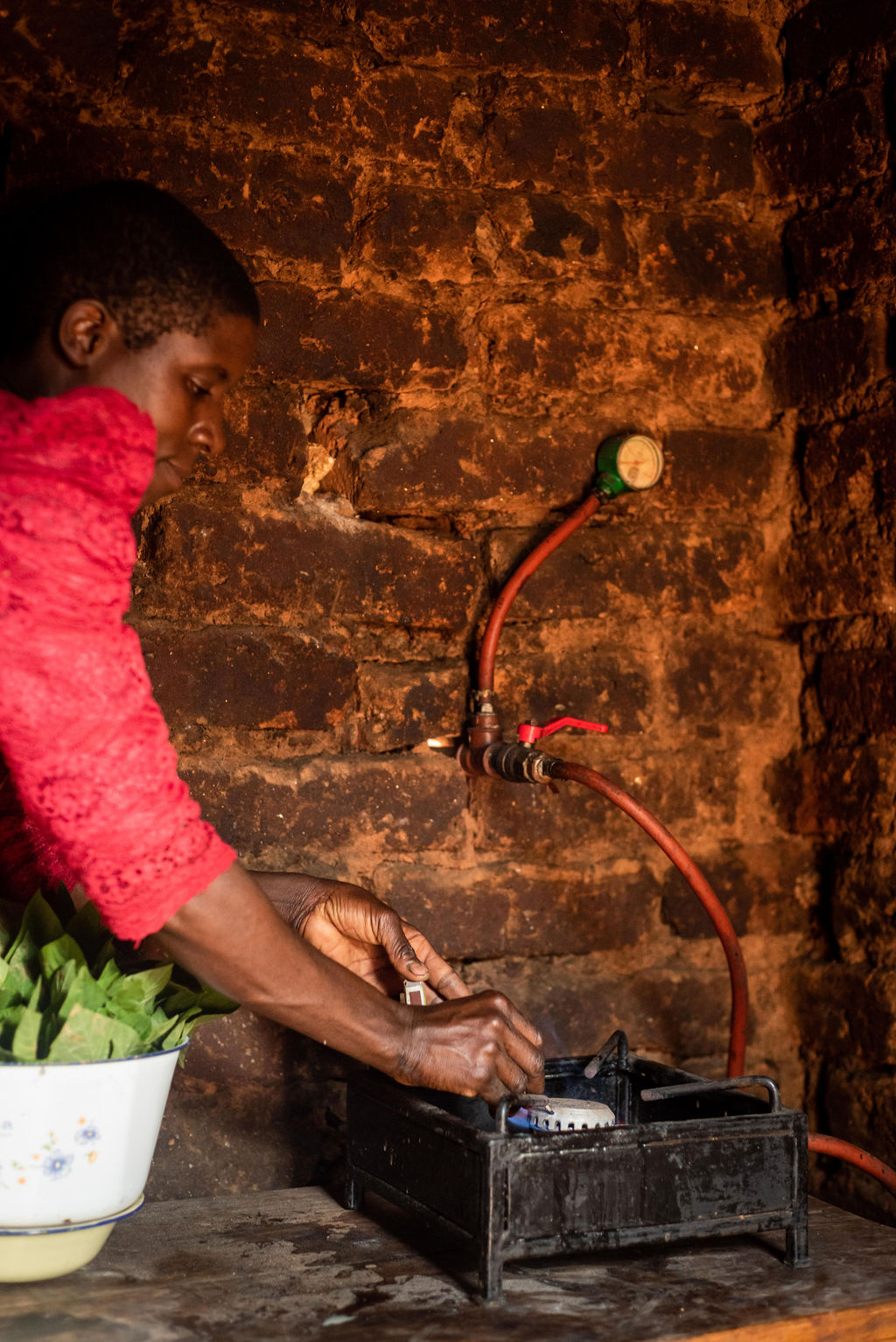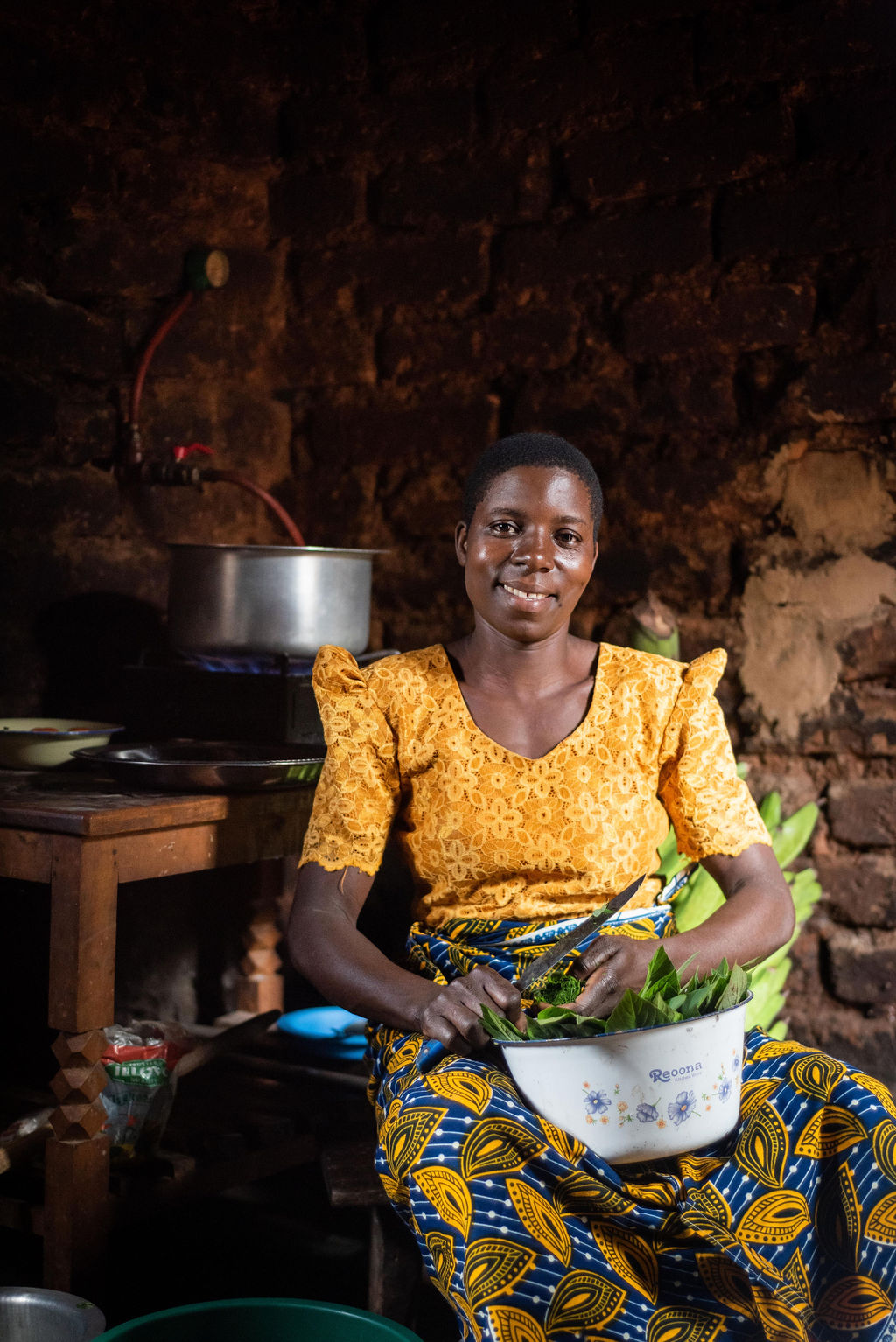 Meliha and Elieza Mtafia from Tanzania are implementing a number of climate-smart solutions including biogas. The c&c project built a biogas digester on their property to produce methane gas that fuels their stove without creating smoke, protecting Meliha's respiratory health. This eliminates the need to collect firewood, reducing deforestation. An additional perk is that the leftover mixture from the digester can be used as fertilizer to water their crops. This closed-loop system maximizes resource efficiency and benefits both Meliha's family and the environment. Together, the couple are promoting sustainable energy solutions to their community members who frequently visit their house to learn about the biogas installation.
Glenda uses solar dryers to reduce her coffee beans' vulnerability to erratic rainfall and minimize post-harvest losses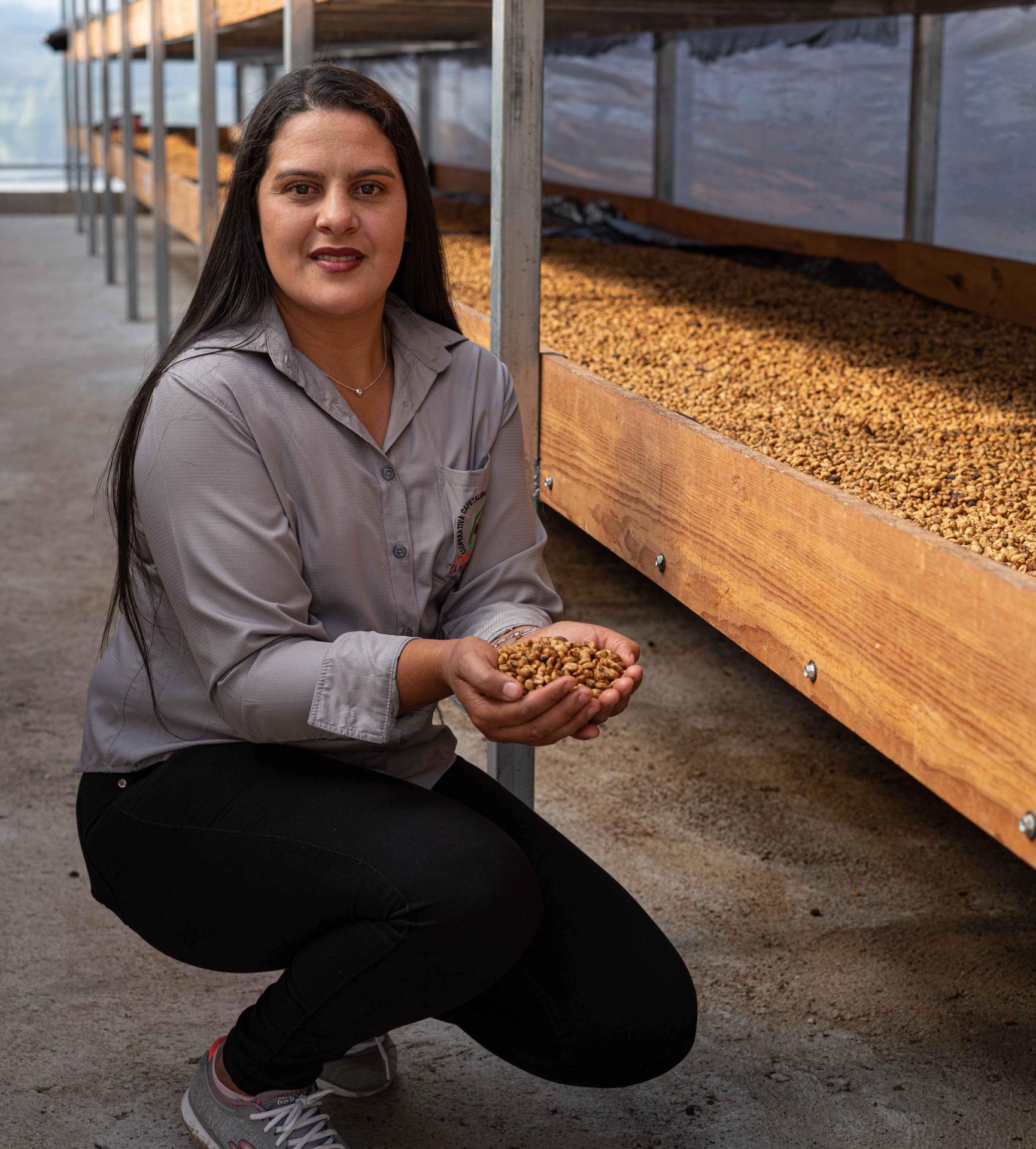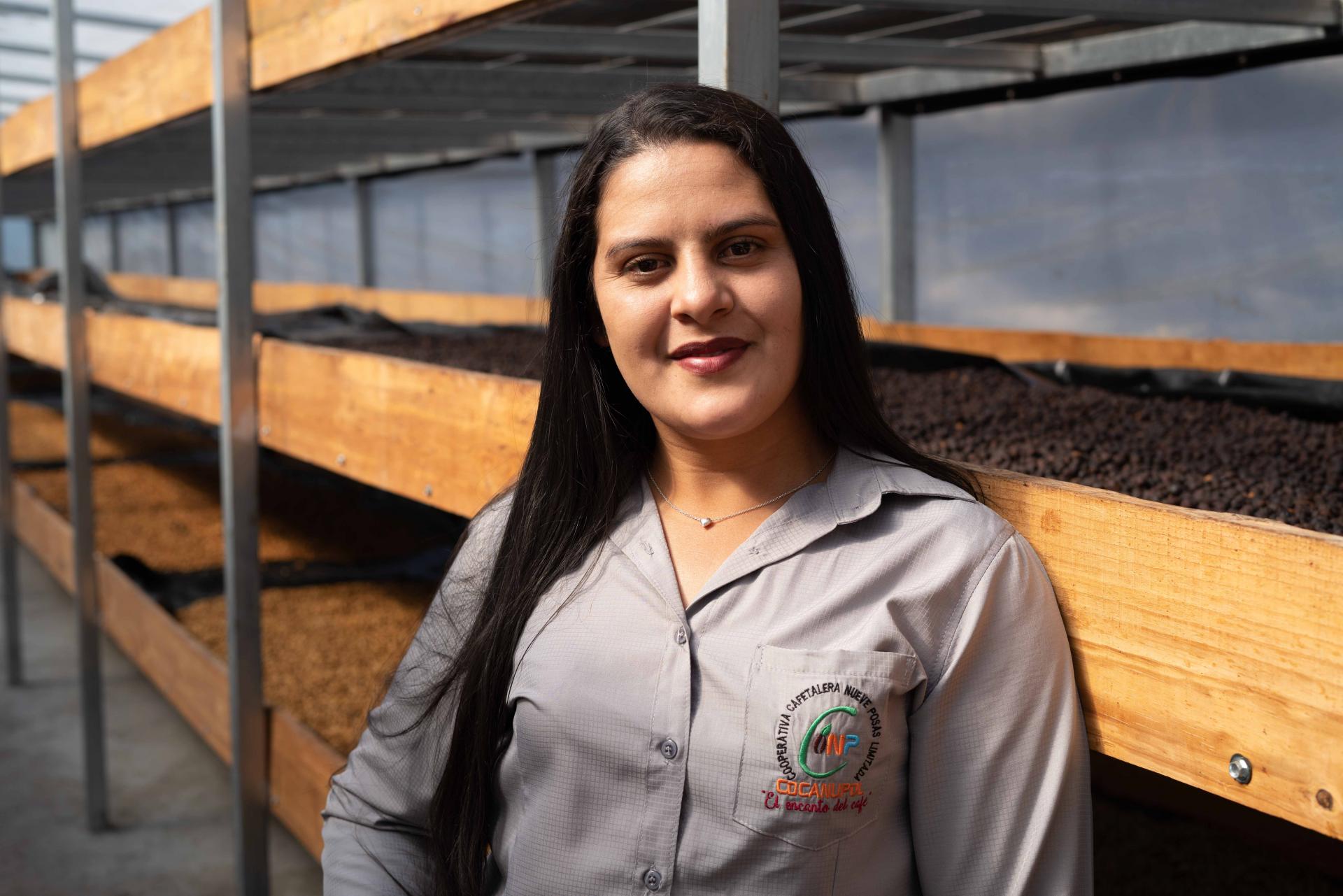 Climate change can affect the quality and yield of coffee crops, especially in regions with erratic rainfall patterns or prolonged dry spells. Traditional sun-drying methods are not effective in such conditions as the coffee beans may be exposed to mold, pests, and other contaminants. Glenda Fuentes who is a c&c project participant in Honduras, uses solar dryers made available by her Farmer Organization COCANUPOL as a source of renewable energy to dry her coffee beans. This provides a reliable and consistent drying process, even during cloudy or rainy periods. Using solar dryers enables Glenda and fellow smallholders to reduce post-harvest losses and ensure a consistent supply of high-quality coffee, even in the face of changing weather patterns.
Erize adopts time-saving technologies to reduce her vulnerability to drought and her carbon footprint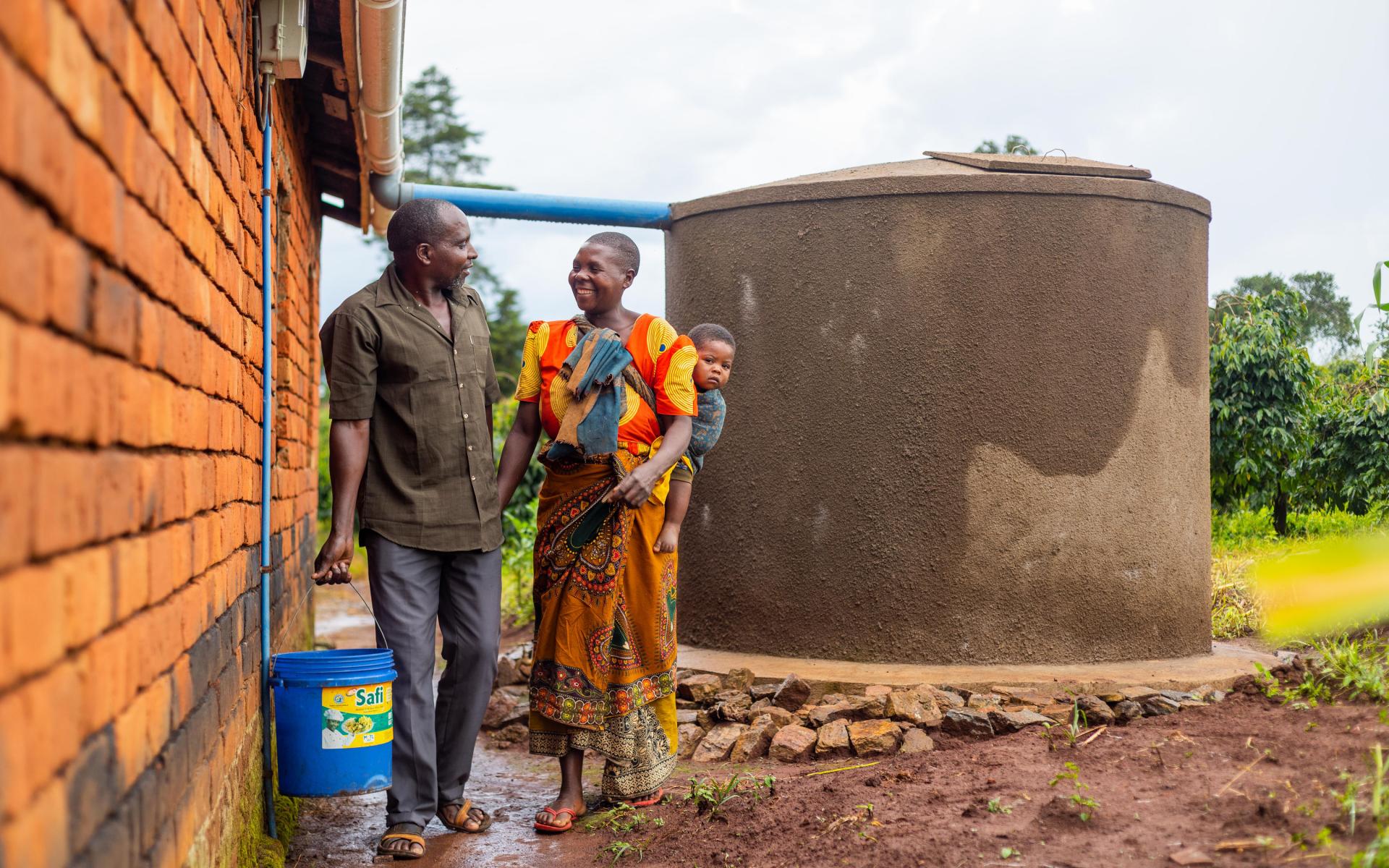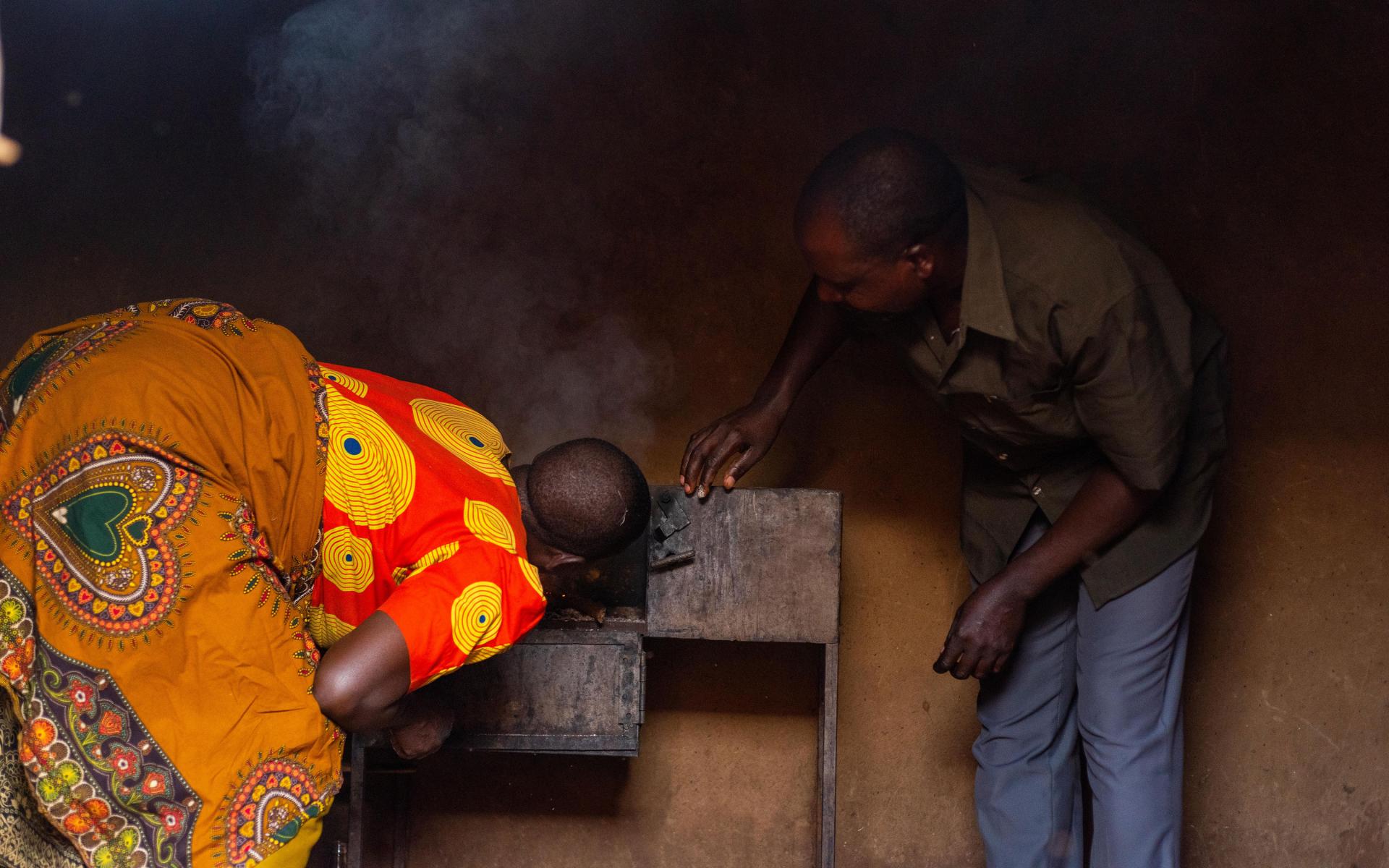 Adopting time-saving technologies including clean and efficient cookstoves and domestic water harvesting tanks helps women to reduce their vulnerability to climate change and their contribution to deforestation and greenhouse gas emissions. Erize and her husband Morris Mwashirindi from Tanzania constructed a rainwater harvesting tank which not only helps them cope with water scarcity but also saves them time as they don't have to walk long distances to fetch water for farm and domestic use. Erize also purchased and uses a clean and efficient cookstove which reduces her use of firewood and therefore minimizes their carbon footprint.
Betty provides her community with improved coffee seedlings and advocates for afforestation and sustainable farm practices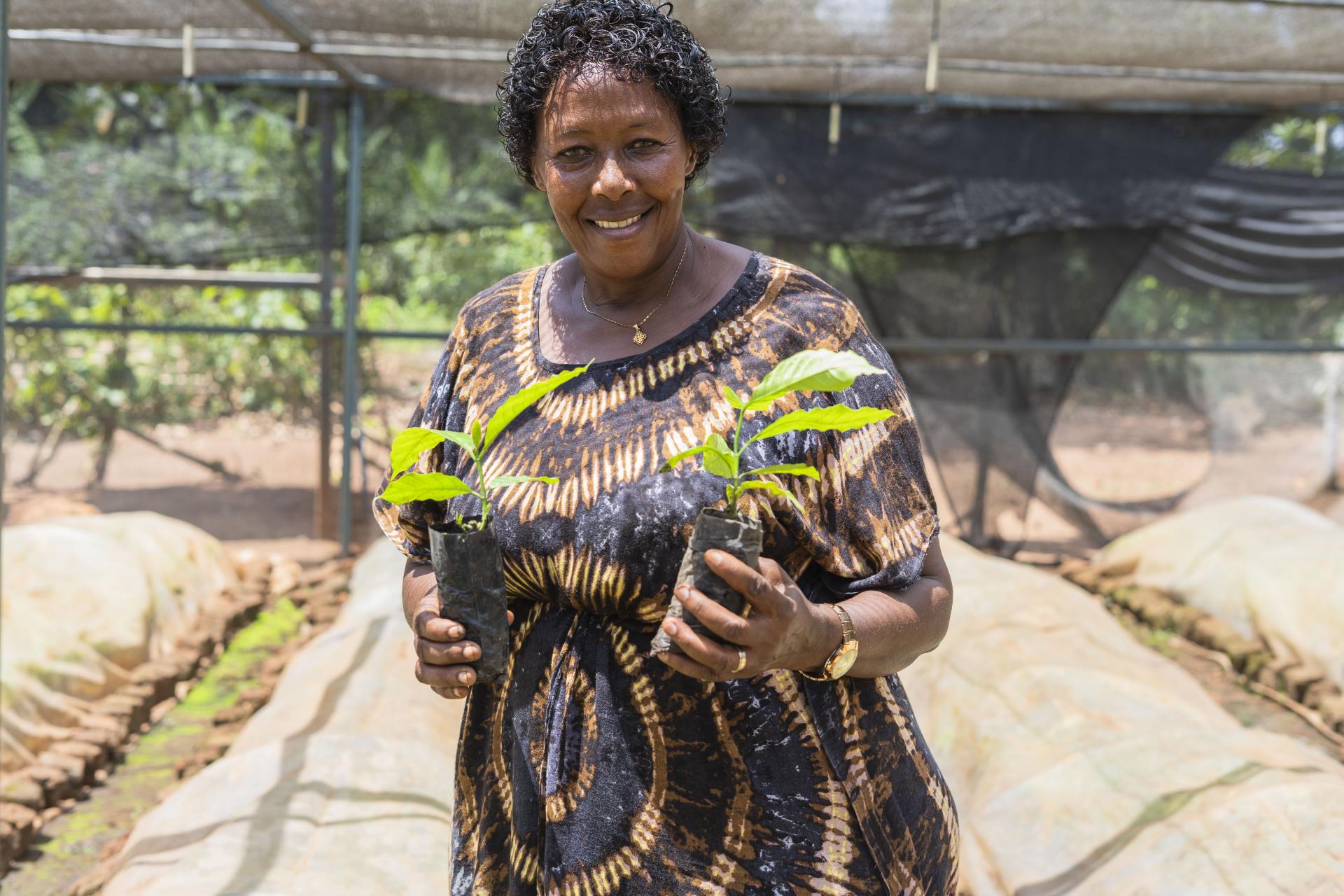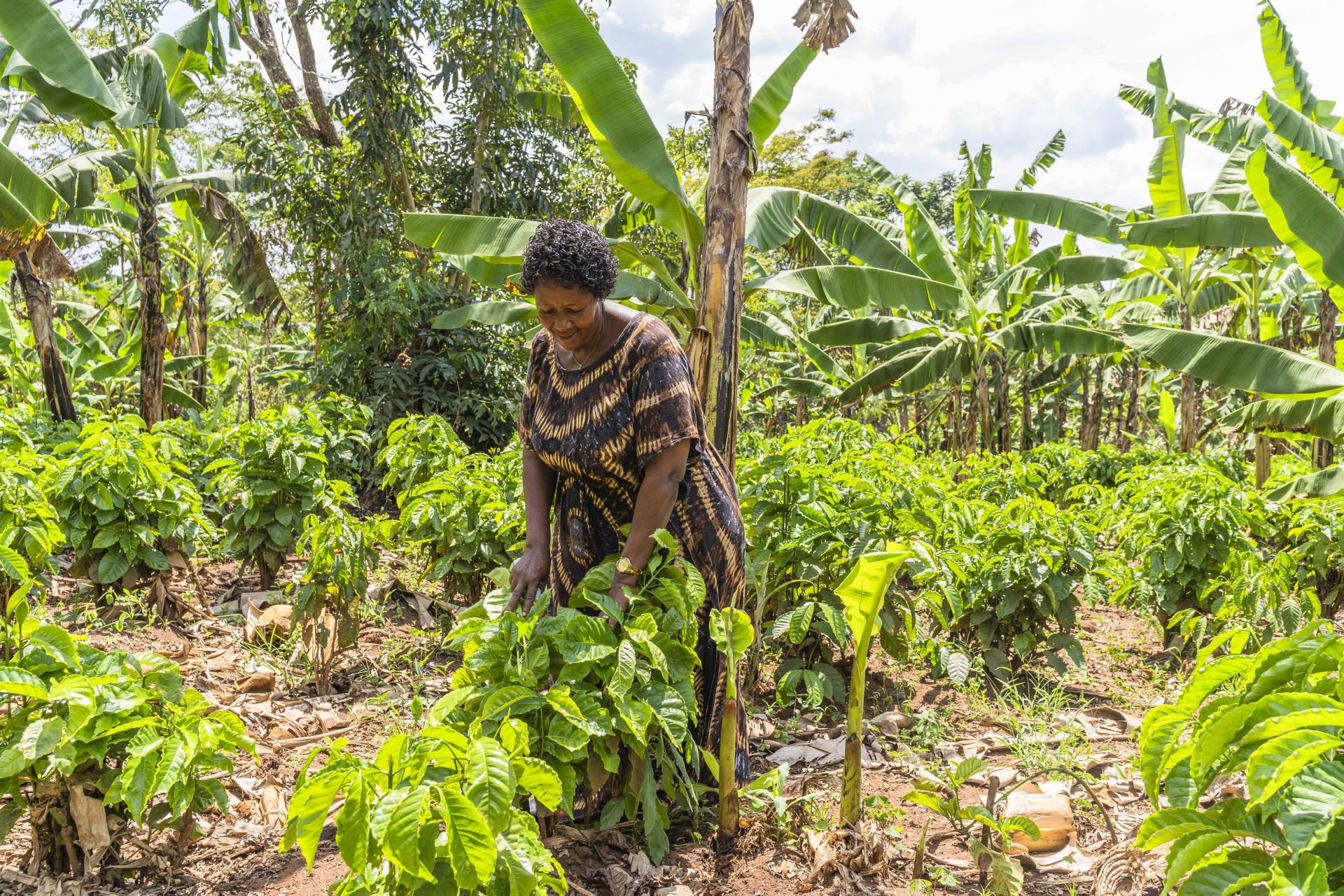 Betty Nduga, a smallholder in Uganda, is fighting climate change through afforestation. She achieves this through her advocacy work and coffee nursery business. By selling disease-resistant seedlings that grow into trees and absorb carbon dioxide through photosynthesis, Betty is contributing to mitigating climate change. In addition to this, her coffee mother garden incorporates bananas as shade trees which demonstrates sustainable farm practices to her clients. Betty's business also creates economic opportunities for the women in her local community who she employs to work in her nursery and mother garden.
Catherine advocates for environmental sustainability and policies that address women smallholder's specific needs and challenges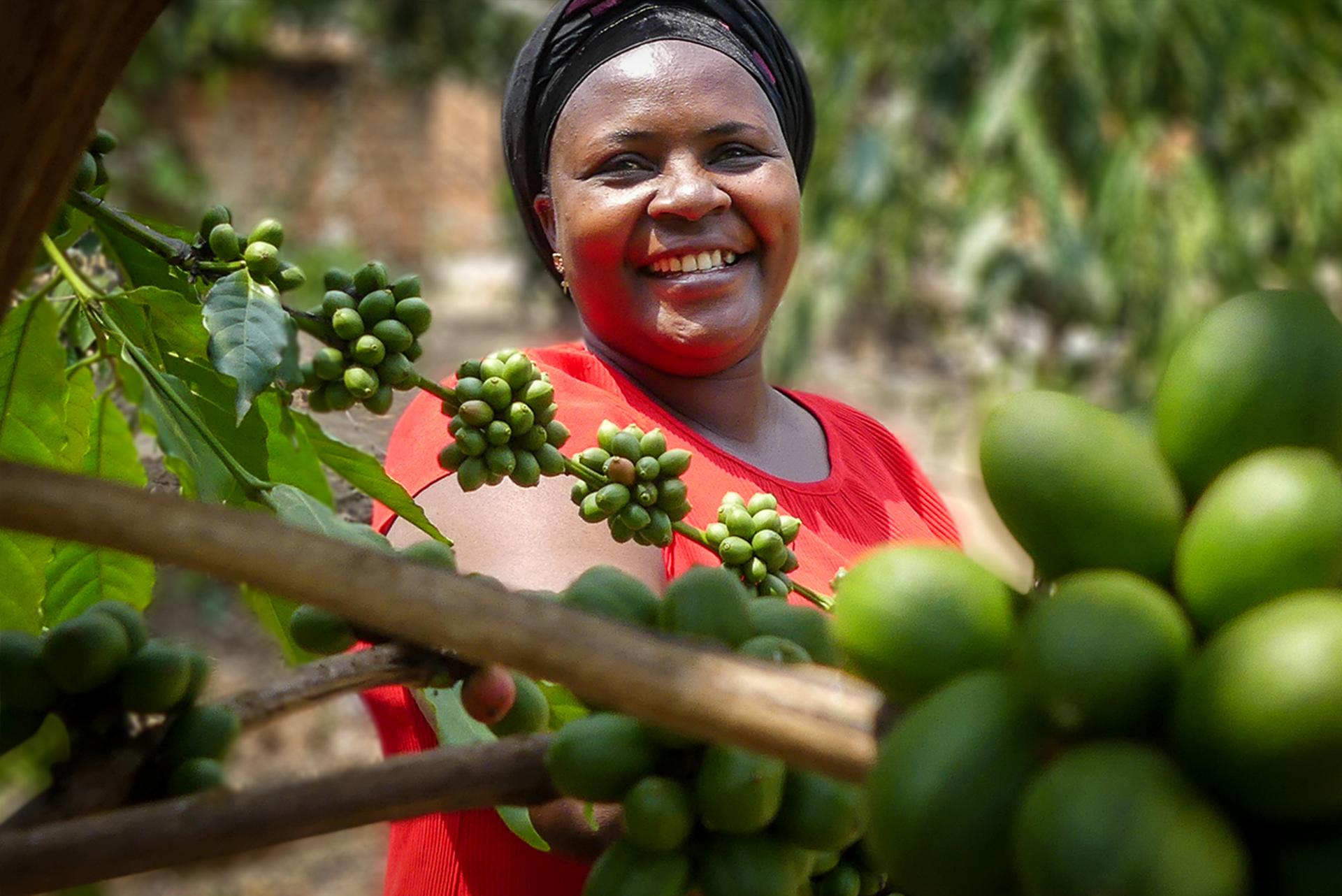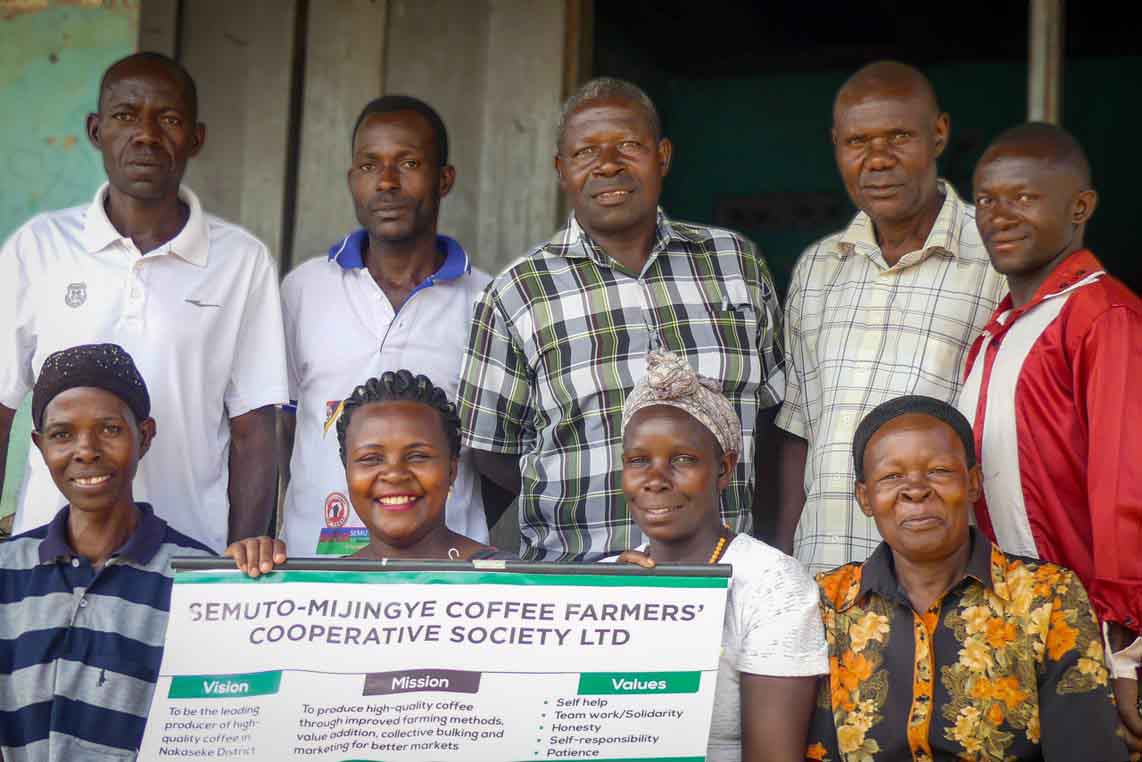 Catherine Nakibuule from Uganda advocates for gender-responsive policies that significantly reduce women smallholder's vulnerability to climate change. She serves as the Woman District Councillor in Uganda's Nakaseke District local government where she raises awareness on the gender disparities that affect women smallholders. Catherine is also the Chairperson of Semuto Coffee Farmer's Cooperative Society LTD, where she has been involved in educating members on environmental sustainability and health. She was recognized for her work during the Nakaseke district's World Environment Day celebrations in June 2022. Under her leadership, the cooperative has prioritized climate change adaptation and mitigation, as well as gender-inclusive services that address women's specific needs and challenges. The cooperative has 321 members, of which 195 are women and 126 are men, a testimony to Catherine's gender-sensitive leadership. She continues to play a vital role in ensuring a sustainable future for all cooperative members.
In summary, women smallholders are essential actors in the fight against climate change. As the primary caregivers and producers in many communities, they are often the first to feel the impacts of environmental degradation and climate change. However, women smallholders are at the forefront of the fight against climate change, and their contributions are critical for building resilient communities, mitigating greenhouse gas emissions, and achieving sustainable development. Recognizing and supporting their efforts is crucial in achieving global climate goals and ensuring a just and equitable transition to a low-carbon economy.